Let's face it, Germany were doomed as soon as I picked them to win the whole damn thing. The Fels Motherfuck knows no challenge it can't overcome, even if it's the No. 2 team in the world, and a lot of people's favorite.
France or Argentina? Who wins the FIFA World Cup? | Agree to Disagree
But that's the story, as the biggest monster on this side of the draw fell at the first hurdle, sending a tremor through the whole competition and sending Morocco into rapture, Not that they don't deserve it. Let's suss it out the best we can.
Game of the day: Korea 1–1 Germany
Can you lose 1-1? You definitely can if you're Germany, and they did. The Germans needed to better Morocco's result against Colombia to go through. But in simpler terms, all they needed to do was beat a South Korea team that was basically already out (they would have needed to beat Germany by five to advance) and hadn't looked much like getting a result against anyone in this tournament. It's not how Germany would have drawn it up before the whole thing started, but it's also not a task they would have thought was much more than elementary.
Which, sadly for them, they emerged from the tunnel and played exactly like. The Germans got a warning shot in the third minute when a poorly cleared cross allowed Korea the chance to send Casey Phair clean through when the German line didn't really push up to catch her offside nor mark her in any way.
What is this defending?
Part of Germany's problem was that for the first time this tournament, they came out in a 3-4-3/3-5-2, which is a formation they have used before but not here. And it clearly provided some wonkiness, even if it was to accommodate a returning Marina Hegering. For the opening 10 minutes, Germany were at sea.
Which was more than long enough for Korea to take advantage:
Again, this is just woeful defending from Germany. This defensive line looks like the Monterey coast, and So-Hyun Cho is open for a while. It's not like she just ran into space from somewhere they couldn't see her.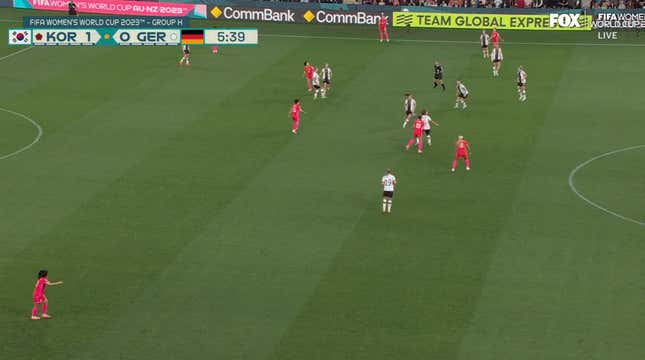 It was clear that Germany realized they came out as if they were all hungover, because it was before the 10-minute mark that captain Alexandra Popp was tearing into them as a whole:
As the game progressed, it was hard to not feel like Germany had gotten worse as the tournament went along. They were good to very good against Morocco when they scored six. They seemed caught off-guard that Colombia wasn't afraid to get in their face. And they seemed bewildered as to how to break down Korea's 4-5-1 defensive shell, aside from punting it onto Alexandra Popp's head. Which did get them one goal:
It felt like the first time that Germany tried to string anything together through midfield, through Lena Oberdorf, who spreads this out wide and allows Svenja Huth to pick out an aimed cross instead of a hopeful one. It also felt like the last time they tried it.
The second half saw Germany get the ball into the net, but it was chalked off for offside (rightly). And after that, Germany seemed to just fall apart. After Popp headed straight at the keeper in the 74th minute, they didn't create another Grade A chance. They hoofed cross after cross, but Korea dealt with it through sheer numbers. Even if Popp got her head to something, Korea had her surrounded to prevent her from getting much on it and also to clean up all the second balls. And Germany didn't have any other ideas. As it became clearer and clearer that Germany would need to win this game to go through, they fashioned just two shots on target in the second half. Certainly it felt like they missed having a third midfielder with this formation, as Klara Buhl would normally be filling out a #10 role but was shunted out wider to fit in two central strikers. It didn't work.
And now they're out. While the roars from Morocco watching on in Perth will live forever, they probably weren't much quieter in England or France. The English had been fearing a quarter against Germany as their squad continues to be decimated by injuries. While seeing Colombia or Jamaica certainly won't be easy, it's a choice they would have taken ahead of time. France may have been worried that after winning their group they may get rewarded with a round-of-16 date with the Germans as well. That side of the draw is much more open now.
If there's a lesson in all this, and there may not be because soccer can often be just a bunch of stuff that happens, it's that if the talent gap is still there between some teams, it's no longer large enough that "smaller" teams can't put together a cohesive defensive plan, carry it out, and frustrate an opponent. Jamaica, Morocco, Nigeria, South Africa have all been able to take down more hallowed teams by giving them nothing and striking when the chance came (or in Jamaica's case, simply never giving up a goal). If you want to throw Portugal against the US on this list, you certainly can.
It's certainly making for a wild World Cup. Brazil eating it in the group stage is a surprise, but not a shock. They've been a bit ropey for a while as they transition to a new generation. Germany ending up with their face in the dirt after three games is an absolute earth-shaking shock. And they were the width of the post from being joined by the Yanks. Certainly the gaps are closing to the point where anything can happen, and it already has.
Other results: Morocco 1–0 Colombia
There's nothing I can write that will do the moment more justice than this:
And they absolutely deserve it, especially after recovering from giving up a touchdown to Germany in their first-ever World Cup game, where clearly the nerves played a role. They got to grips with the stage in a hurry, as they were never under threat from Korea, and then were the first team to keep Colombia's fireworks factory of a front three quiet.
The plan wasn't all that complicated, as they simply didn't let Linda Caicedo, Mayra Ramirez, and Catalina Usme get behind them. They played very deep, and when they won the ball just tried to thread Jraidi or Lahmari through on the break. Not until late when fatigue set in did Colombia look like it could generate anything.
Colombia was in an odd spot. While not officially through, they were basically through given the miraculous result Korea would have needed to knock them out. Even if Germany had won, Colombia would have gone through with this 1-0 loss. Did they think winning the group would make such a huge difference? Certainly there's a difference between playing France or Jamaica, but that didn't mean Colombia had all the urgency in this one either.
It was also pretty odd to see Caicedo kept on the field after she clearly did something to her ankle was hobbling for the last 20 minutes. There's trusting your player and then there's mortgaging your future in the tournament, and one hopes it's not an injury that carries over into the next round. Now that they are through, they won't see anything different from Jamaica than they did Morocco. Will they have a better plan for it?
But that doesn't give enough credit to Morocco, who defended valiantly when they had to and showed a togetherness that was admirable considering how terrible things started. And they weren't just obstinate, as they doubled up Colombia in shots on target. Again, as stated throughout the World Cup, this is maybe the only country we've seen where their FA has bolstered them, invested in them, and made it clear they're a priority. And this is a reward. They should be held up all over the world as what should be, not just what could be.
Goal of the day
Cho was given the freedom of the entire eastern coast of Australia, but the finish was as cool as anyone could ask. There's something too poetic about just rolling the ball into the back of the net, doing only what is required.
Let's laugh at Germany some more:
---
Follow Sam on Twitter @Felsgate and on Bluesky @Felsgate.bsky.social


Original source here

#World #Cup #Day #wait #Germans #long