The NFL being an official advertising wing of the US military is nothing new. From the war terms applied to the game itself by analysts and commentators, to the official camo swag, to Gronk advertising insurance only for military members and their families, the two have been arm in arm for decades. It shouldn't have been much of a shock that on their biggest stage, the NFL would turn it up to 11. Subtlety isn't the league's forte.
For the coin toss, the league trotted out its honorary captains, all Pat Tillman Scholars. And an introductory video pumped the same message that the league, and originally the government, wants us to swallow. We know that story, about Tillman leaving behind his NFL career to serve in the army, becoming a Ranger, and dying in combat. All the vested parties love to trot him out as everything that's right with the country and military and government and how they all intertwine.
Everyone knows the truth about Pat Tillman's death
But that story has been thrown out for a while now. Tillman was more a symbol of rebellion, calling the Iraq war "fucking illegal". He was going to meet with Noam Chomsky after he returned. He refused to let the Bush administration use him as a piece of propaganda to boost approval for a war he loathed.
We know he was killed by friendly fire. We know the military and government tried to cover it up, even from Tillman's own family. This is the whole story, and the NFL was hoping on Sunday night that we would all just forget. Tillman didn't want to be a prop in life. We can be sure he wouldn't either 19 years after his death.
While certainly his bravery and commitment are worth remembering, Tillman has become a symbol of a wayward war and bumbling government's use of the military. Their willingness to turn anyone into a pawn, especially after their death when they can't argue with it. This is what the NFL was so eager to play into on Sunday night.
G/O Media may get a commission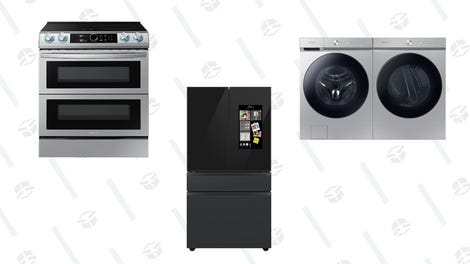 BUNDLE AND SAVE
Samsung Presidents Day Appliance Sale
Save on refrigerators, washers and dryers, and more
The Samsung Presidents Day Sale event features price cuts and promotions on refrigerators, washers and dryers, vacuums, and much more. Unsure which pieces are worth your time? We've got a great selection here to choose from so you can pick up what best speaks to you before the sale ends on March 1.
Tillman shouldn't be erased from the NFL annals, but the whole story should be told. Tillman would have been a better symbol for players kneeling across the league, given how he was an informed thinker and not afraid to stand up for what he believed in, rather than the league once again trying to dry hump the armed forces.
Perhaps if the NFL really respected the troops, it would be asking serious questions about how they're deployed and protected. But it doesn't really, it cares about the money from those who needlessly put them in harm's way. Or co-opt a dead one's story for their own purposes, with the NFL's aid. Somehow I doubt they'll use next year's honorary captains to tell that story.
This is players deciding
You're going to spend the next week hearing about how the refs decided the Super Bowl. About how it isn't fair that the "players didn't get to decide the game." If you have a Philly native in your life (and really who doesn't?), you're going to hear about it for the next five years. Maybe longer. Perhaps the only escape will be the warm embrace of death.
Here's the thing though, the players did decide. Juju Smith-Schuster beat James Bradberry, and the latter grabbed the former's jersey. Smith-Schuster earned his team a call, and he got one. Don't believe me?
The idea that refs in any sport should spend the closing minutes of any contest trying to pass their whistles through their small intestines while checking out the architecture of the stadium instead of the action on the field, allowing the players simply to have at each other like the Battle of Stirling has always been horseshit. It only ensures that the best players will be clutched, grabbed, and held down to the level of the worst players. That's what we want. A player rising above the enormity of the situation to do something miserable. Not some punter being able to prevent that by executing a flying body block or cobra clutch that would normally draw a whistle or a flag.
Two players decided that the Chiefs should get a game-changing penalty. And that's exactly what they got. That's justice, even if you're wearing green.
And fuck Philly anyway. Maybe the Sixers can complete the set of championship barf-ups come June (sadly there's no hope for the Flyers).


Original source here

#NFL #leave #Pat #Tillman