A lot of children were born in 1984. I know almost none of them, and the same goes for anyone reading this story. Personally, I know cousins, and a handful of people from church, high school, and college. You reading this most likely don't know them and I don't know your parents, kids, friends, etc. born that year either. There are two people born that year we all do know though: LeBron James and Mark Zuckerberg.
Two people who have reached the absolute zenith of their professions. Zuckerberg revolutionized the way that people communicate. He took social media from standard definition to HD, and has the most successful company in that field. These days he is one of the wealthiest people in the world.
James is quite possibly the best athlete that has ever walked the face of this earth. He's built like Rob Gronkowski, but runs like Randy Moss. On Tuesday night, he planted his flag at the top of the NBA mountain. He broke the league's most hallowed record, the most regular-season points scored. James overtook Kareem Abdul-Jabbar who broke the record the year that James and Zuckerberg were born. In between scoring all of those points, James found time to become a billionaire himself.
Both James and Zuckerberg were also child prodigies. James of course was on the cover of Sports Illustrated as a junior in high school. While there were no magazine features written about Zuckerberg, AOL and Microsoft were interested in purchasing an app he created in high school that was similar to what Pandora is today.
That is the extent of the similarities between the two. James went straight to pros out of high school, while Zuckerberg instead spent two years at Harvard. Maybe James was more prepared to forgo college than Zuckerberg, but ready or not he was going to go. James had far more to think about than his own desires.
G/O Media may get a commission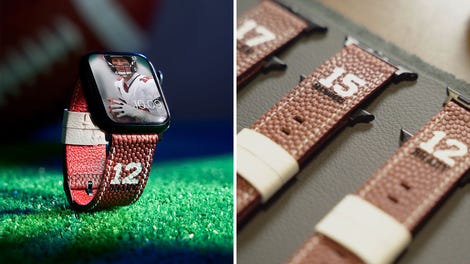 Official NFL PRODUCTS
Official NFL Apple Watch Bands
Touchdown!
MobyFox has partnered with the NFL Players Association to bring mega fans a series of hand-crafted Apple Watch bands crafted from authentic football leather. Choose from bands featuring Tom Brady, Patrick Mahomes, Mac Jones, Justin Fields, Josh Allen, and Dak Prescott.
Two children, both born 20 years after the passing of the Civil Rights Act. One Black, one white, and from two different sides of the tracks. A generation that was supposed to live in Dr. Martin Luther King Jr.'s dream of not being judged by the color of their skin. For these two millennials, their color ended up coloring their upbringing, nearly derailing one of them before he ever had a chance to see what was on the other side of those tracks.
During James' postgame press conference, he was asked about two people he embraced for an extended period of time before leaving the floor. Those two people were Pam and Frank Walker. At a time when James' life was a constant seastorm, they gave him some shore where could finally drop his anchor.
"They took me into their household with their three other kids at the time," James said to the media. "And made me feel like I was one of their own."
Per a Housing and Urban Development presentation from May 2022, an individual or family is declared unhoused (homeless) if they "lack a fixed, regular, and adequate nighttime residence." That would accurately describe most of James' childhood until the fourth grade.
LeBron's upbringing
His mother, Gloria, birthed him when she was 16 years old. With the father of this new child not around, her mother and grandmother continued to take care of her along with baby LeBron. It was working out well enough until her mother died in 1987, days before LeBron's third birthday. Her grandmother had died shortly after LeBron's birth and teenage Gloria and her brothers were not able to hold down the house.
It's hard being young, losing two providers, and being responsible for a child, especially when you're Black in the 1980s midwest. Akron, Ohio, LeBron's hometown, was once the rubber capital of the world. In 1982 the last major tire factory in the city closed.
The Akron metro area was already segregated due to discriminatory housing practices that were rampant in America throughout much of the 20th century. Black people there also got hit with the common double whammy of displacement by highway construction. Roads were built to get suburbanites to and from their jobs more quickly. In Akron, again like many other cities, highway construction took place in Black neighborhoods. What is unique to Akron is that the highway was never finished. Millions of dollars were wasted and thousands of Black lives were upended.
This is the Akron where Gloria was forced to raise her only child. They couch-surfed for six years, until James was in the fourth grade. Then one day a youth football coach made a trip to a project complex where they had been laying their heads for a time and saw the young boy run. While on that coach's football team, James met the Walkers who took him in while his mother gained her footing.
Zuckerberg's upbringing
On the other side of the housing segregation tracks are the Zuckerbergs. Edward — Mark's father — grew up in Brooklyn. His father was a mailman. Edward graduated from NYU and became a dentist. He raised his family in the high-profile affluent suburbs of Westchester County, N.Y., a county that has fought neighborhood desegregation tooth and nail for decades.
One way the Fair Housing Act of 1968 was supposed to force the suburbs to desegregate was by withholding block grants to those communities that did not comply. That policy was not properly enforced. As a result, residential segregation largely didn't change. From the early 1970s until 2009 no funds were withheld. The community that was finally penalized was Westchester County.
From 1976-2012, HUD granted the county $187 million in block grants. Of the limited affordable housing built there, 73 percent of it was constructed in majority Black or Latino areas. Of the 12 whitest municipalities in Westchester not a single one of them added an affordable housing unit. The county denied any racial discrimination but was placed on a consent decree by the federal government in 2009. One of the terms of the decree was that 750 affordable housing units were ordered to be built in the whitest areas over the next seven years. The 750th unit was added on June 1, 2021.
Zuckerberg grew up in Dobbs Ferry, N.Y. with his father's dental practice in the basement of his childhood home. When Westchester County added that 750th affordable housing unit, Zuckerberg's hometown of 11,000-plus residents had 11 of them.
From rags to riches…
While the story of James' rise from couches in Akron to the top scorer in NBA history is awe-inspiring, in no way is it just. We gush over this story of a boy coming from nothing. Americans love a story that makes them feel like hard work can solve any problem. What Americans should actually feel when they hear James' childhood story is a shame.
In what is supposed to be the greatest country in the world, a mother died young and the result was a teenage mom and a little boy had to live like nomads for half a decade. There weren't any MTV cameras following them around, just poverty and deindustrialization.
On the properly resourced side of the tracks, a boy grew up in a situation so rock solid that after the boy became a billionaire his parents still lived in the same house that was purchased before the boy was born.
Both boys were born in 1984, and they both were immensely talented. At 38 years old finances for both James and Zuckerberg are 180 degrees away from a problem. Two '84 babies who me, yo mama, and yo cousin too, we all know who they are.
Now that we're familiar with their accomplishments, let's examine their journeys a little more closely so more teenagers can be free to pass up the bag at 18 years old if they so choose. 


Original source here

#LeBrons #rise #poverty #NBA #alltime #leading #scorer #story