There isn't an athlete in the history of our planet that can overcome being doubted like LeBron James. The most hyped amateur prospect in the history of sports essentially had to be a top-10 player in NBA history to live up to his billing, and he cemented that less than a decade into his career. Now after the Los Angeles Lakers started the season 2-10 and were left for roadkill — they were .500 after 74 games — the LeBron Hollywood show is eight wins away from an NBA championship after taking down the Steph Curry show featuring Draymond Green on Friday night.
Grant Hill looks to repeat Team USA's 2004 "success"
While LeBron's legacy is well intact and only needs tinkering when discussing basketball's Mount Rushmore or overall GOAT conversation, leading a franchise out of the doldrums to one of the final four teams left standing deserves its flowers. The horrible-start-to-Conference-Final storyline wasn't on James' resume before this season. He did a great job leading overwhelming favorites to titles and capitalizing in the bubble. This is a different arc than we've seen for James, at the center of what was considered an aging Lakers team. It isn't a typical spot for one of the game's premier players to be in. With so much on-court business running through a superstar, having a significant change happen this late in the season shows one of two things: James has the ability to adjust his playing style to curtail to a specific situation and not just get his shit in or the Lakers' excuses about being hurt all year were actually legit.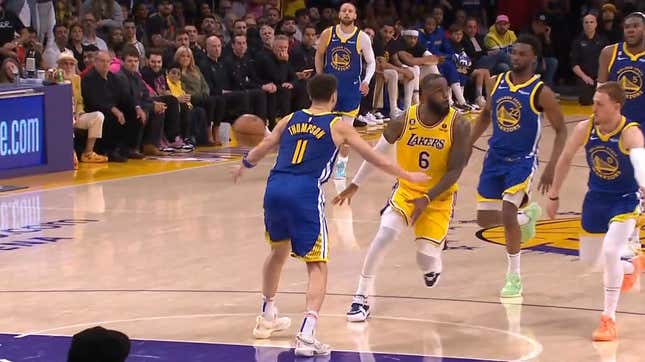 The Lakers being in a position to be the No. 7 seed and on the doorstep of a conference championship is in part due to not having an overwhelming dominant team in the West this season. The best this season is the Denver Nuggets, who LeBron and friends will have to beat to get to the finals. And at close to 38.5 years old, James' window to add to his legendary career is winding down. And how many of us doubted him and the Lakers at some point this season? He's proving us all wrong again. And before anyone mentions winning two playoff rounds doesn't move the needle when it comes to James' career, anything he does beyond beating the Warriors is just icing on the cake. He's more than proved his capability in the twilight years of his career. LeBron could be cashing in and waiting for his son Bronny James to get his shot in The Association. And that's far from what we've seen. 


Original source here

#LeBron #James #adds #unique #redemption #arc #GOAT #resume