A dull day with the Brooklyn Nets is merely the calm before a Kyrie Irving storm. On Friday afternoon, the Nets star point guard added another chapter to his tumultuous tenure in Brooklyn by placing his finger on a metaphorical dead man's switch by outright requesting a trade from the Nets.
Last week, Irving's agent went on the record with Bleacher Reports' Chris Haynes to express his client's desire to sign an extension with the Nets. Irving was known as a cantankerous figure, but in Brooklyn, the distractions appeared to escalate every season. An agreement with Irving would undoubtedly be a one-sided affair. Irving will poke and prod at the guardrails and then cross the third rail when that doesn't garner enough of a reaction. When the Nets didn't acquiesce to his most recent demands for a long-term deal, he requested a trade. Now the Nets have to wonder whether he'll sit out if his demands are met. Don't give me that screwface. It's not outside the realm of possibilities.
When healthy, Irving has been a sorcerer with the ball and one of the most creative shotmakers in the entire league. It was worth making one last run at a title and fulfilling the promise of this duo. We should have known trouble was brewing when his social media pages started percolating with more cryptic Da Vinci Code clues. A week after being named an All-Star starter, Irving has stuck another banana in the tailpipe of this Nets franchise.
The saddest part of this saga is that the Brooklyn Nets were finally flying high. Head coach Jacque Vaughn appeared to have Irving's ear. Their switching defense was more imposing than it had ever been during Steve Nash's run. Irving pulling this nonsensical sabotage now is the madness he manifests. Between Nov. 27 and Jan. 8, which is when Kevin Durant sprained his MCL, they'd won 17 of 19 games and were ascending fast.
G/O Media may get a commission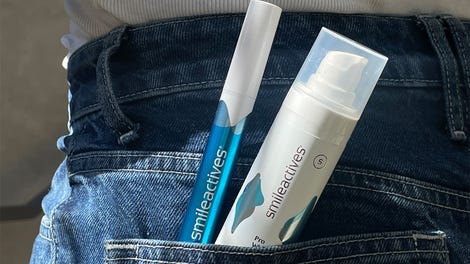 58% off
Whitening Powerhouse Pen & Gel Duo
BRIGHTEN YOUR SMILE
Whiten your teeth at home with Smileactives' one-two punch: the Whitening Powerhouse Pen & Gel Duo. This set will get you the kind of teeth brightening power that uses the same ingredients that dentists rely on for in-office whitening treatments for a fraction of the price.
Durant's knee has barely had time to heal, before a shiv was placed in his back by the point guard he committed to the Nets with back in 2020. The Nets shouldn't be surprised either. They stuck with him through his refusal to get vaccinated, after he took time off to go partying maskless in the middle of the 2021-22 season during a winter COVID spike across the country and after he served a suspension related to an anti-semitic film he promoted, then took a week to disavow. In the offseason, Irving threatened to opt out, then opted in after they found a shallow market for Irving.
Irving's request doesn't just shake up the franchise at the deadline, but it also impales Durant's career. Durant hitching his wagon to Irving has been the biggest mistake he's ever made. After the serene two championships in four years Durant won with Golden State, and Irving's championship years as LeBron James' sidekick in Cleveland, he and Irving sought to build something as equals. Instead, Irving has written a horror story for Durant. His destructive tendencies were a wedge that played a part in driving away James Harden. He single-handedly tanked the Nets and prior to that, set the Celtics championship project back a few years. Don't forget, he also requested a trade away from the Cavaliers after the 2017 Finals. This is his pattern.
Ramifications of an Irving trade
So let's unpack the trade deadline ramifications. The outcomes for Irving are fairly straightforward. Los Angeles is the only franchise that has the will and the pieces to negotiate a trade for Irving and his expiring contract. Russell Westbrook has been a supplemental piece off the bench for the Lakers and his $47 million salary will be instrumental in matching Irving's contract if a trade were negotiated.
However, for Brooklyn, this would be a deal to strengthen the future. The Lakers would likely need to surrender their 2027 and 2029 first-round picks, but it's an exchange the Lakers would make in an instant. If Rob Pelinka is savvy enough, he'd lop Joe Harris into the deal as well to provide the NBA's worst shooting team with another floor-spacing sharpshooter. Then, they'd have to appease him with a contract extension. Fortunately, LeBron is the league's only proven Kyrie whisperer, and if the Clippers leap on an Irving trade, Laker Nation will be fuming. The Heat are skulking around, but Pat Riley, Jimmy Butler, and Kyrie Irving feel like a match near a leaky gas line.
For Durant, this could take a while. The elephant in the room is the Golden State Warriors. If Irving gets his reunion with James, Golden State should do everything in its power to get involved somehow. A sleepy trade deadline, just got a shock to the heart. The more things change, you can always count on Kyrie Irving to set the world on fire.




Original source here

#Kyrie #Irving #finger #Brooklyn #Nets #dead #mans #switch