The Carolina Panthers — who are owned by a man who claims to be trying to end the "old boys network" within the NFL despite hiring a white head coach over a qualified Black one — have a new coaching staff that's led by the trio of Frank Reich, Dom Capers, and Jim Caldwell. The hierarchy in Carolina is a slap in the face to Black coaches throughout the NFL — but especially to Caldwell.
Pay attention to the people who celebrate when Black coaches get hired as coordinators and senior assistants instead of being selected as head coaches as if accepting these sometimes lateral moves and/or subordinate roles that they're often overqualified for is some sort of promotion.
It happens a lot. And on days like today, you'll see it all over your timelines.
At some point, Reich, Capers, and Caldwell will be in an office somewhere talking football. Inevitably, the Super Bowl will come up in discussion. And when those foreseeable discussions take place, it will speak to the plight of Caldwell and other Black men who have coached in this league. Sitting in one chair will be Reich — the head coach — who has a Super Bowl ring from his time as offensive coordinator with the Philadelphia Eagles from the 2017 season. In the other will be Capers — the senior defensive assistant — who was the defensive coordinator the last time the Green Bay Packers hoisted the Lombardi Trophy. And then there's Caldwell — the senior assistant that will help on offense, defense, and special teams — who has two Super Bowl rings as a coordinator and more combined regular season and playoff wins as a head coach (64) than Capers (49) and Reich (41).
This is the part of the story when you should realize that the most successful and accomplished coach in the room is the Black one, yet, he has to report to a white coach with a lesser resume.
G/O Media may get a commission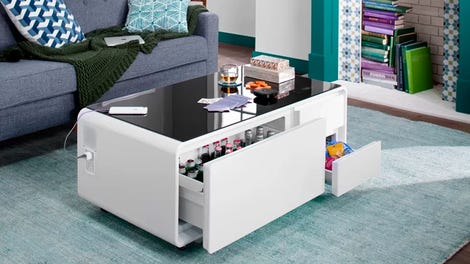 33% off
Sobro Smart Coffee Table
The coffee table of the future.
It's a coffee table with a fridge, high-quality Bluetooth speaker, LED lights, and plenty of outlets to spare.
And people wonder why the league has a class-action lawsuit against it for its alleged racist hiring practices.
"At the end of the day, it's wanting to take this team to the next level. To me, that's winning championships, that's winning playoff games and that's winning the Super Bowl." That's what former Detroit Lions General Manager Bob Quinn said when he fired Caldwell from his last head coaching position in 2018.
Mediocrity abounds
Mind you, Caldwell had a .563 percent winning percentage in his four-year tenure, which was better than any Lions coach in the last 60-plus years. He also took Detroit to the playoffs twice and won 11 games in his first season. Since Caldwell was fired, the Lions have gone 6-10, 3-12-1, 5-11, 3-13-1, and 9-8 under Matt Patricia and Dan Campbell — that's 26-54-2.
This is the "goalpost moving" that Black coaches have to deal with.
It's why Brian Flores had to find work as an assistant with the Pittsburgh Steelers after he was fired as the head man with the Miami Dolphins, as he now serves as the defensive coordinator of the Minnesota Vikings since he can't get hired again as a head coach. It's also why Steve Wilks had to take a job as defensive coordinator with the San Francisco 49ers after Panthers owner David Tepper all but implied that it would be impossible for him to be elevated from his interim role despite exceeding expectations. And it's why a Colts legend like Reggie Wayne — and other white and Black assistants — had to watch Jim Irsay pull Jeff Saturday from ESPN to be the interim head coach in Indianapolis after Reich was fired, instead of giving it to somebody who was already on staff.
It's ridiculous how flagrantly rigged the game is, and I haven't even mentioned the Houston Texans — until now.
Because not only is Jim Caldwell working for a franchise in which he's the most accomplished coach on staff where he's outranked, but he also has to deal with the fact that Josh McCown is his new coworker. McCown — in his first NFL coaching job — has been hired as the Panthers' new quarterbacks coach. In case his name sounds familiar, it's because it was speculated that the Texans wanted to hire McCown for their head coach job last year, despite the journeyman quarterback's only coaching experience coming from being an assistant at the high school level. But, Brian Flores' lawsuit against the league "supposedly" played a part in the team choosing Lovie Smith instead — who ultimately became the second Black coach the team hired and fired after one season in consecutive years. This is the kind of stuff that the feds build RICO cases on.




Original source here

#Jim #Caldwell #work #Frank #Reich #slap #face