Eric Bieniemy's circuitous route to an NFL head coaching throne has taken him through at least 16 interviews, and the beat goes on. The coaching game of musical chairs is nearing its conclusion once again, and Bieniemy's only coaching interview during this cycle has been with the Indianapolis Colts. Aside from Colts owner Jim Irsay going out of his way to make things awkward by overtly patting himself on the back for interviewing Bieniemy, it's been quiet on the job front.
Reports from the NFL Network's Ian Rapaport indicate that Bieniemy's only other interview prospects would involve lateral moves to open offensive coordinator positions. Allegedly, the Washington Commanders, Tennessee Titans, and Baltimore Ravens have all reached out to Biemiemy, presumably with the promise of giving him the offensive reins.
An oft-cited rejoinder to Bieniemy's ascension to head coaching jobs is the belief that Andy Reid's play calling is a crutch disguising his competence. Reid's reputation as an NFL offensive mastermind has been burnished for two decades, but that factor being used against one of his offensive assistants is a trend that began with Bieniemy.
The Andy Reid coaching pipeline
Reid has called his own plays for decades, yet his coaching tree has produced a slew of branches ranging from Doug Pederson to Brad Childress, Pat Shurmur, Matt Nagy and John Harbaugh. Each of those individuals has two things in common. They're white, and none of them were the sole playcallers under Andy Reid before they were hired off his staff to become head coaches. Harbaugh was a special teams coordinator. Not surprisingly, the first minority on the offensive side of Reid's coaching tree is under a more acute level of scrutiny. Somehow, pedigree no longer matters.
G/O Media may get a commission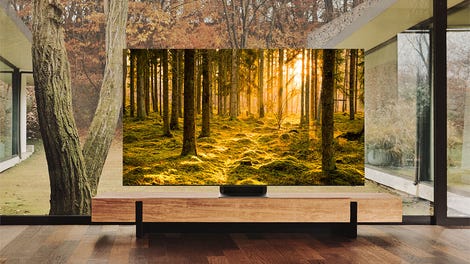 Up to 40% off
Samsung Smart TVs
Vivid colors and deep blacks
It's Oscar season which means it's time to binge all the nominations before the big day. Why not enjoy these pieces of art on a new TV from our friends at Samsung?
Yet, not even Reid dispelling the fallacious rumors over Bieniemy ghostriding the Chiefs' whip has been enough to persuade general managers that he's deserving of being the head honcho somewhere.
NFL's franchises inspecting Bieniemy's success more closely than coaches who've accomplished less than him is indicative of societal trends. Data on the racial gap in employment opportunities from the National Bureau of Economic Research demonstrates that reality. In 2015, their research uncovered that Black workers receive extra scrutiny from bosses, which can lead to worse performance reviews, lower wages, and even job loss.
Black offensive coordinators rarely earn the genius label or the promotions attached to that hype. Bieniemy's offensive peers of a lighter complexion have typically had much quicker paths to the top of an NFL's organizational hierarchy.
An examination of Sean McVay's coaching tree also features several head coaches whose coaching prospects were unaffected by McVay's duties as the primary play caller. Kevin O'Connell briefly called plays in Washington during the 2019 season under interim coach Bill Callahan. That Redskins offense ended that season ranked last in passing, scoring, 31st in total offense, but were a smidge better at running the ball where they ranked 23rd. Black coaches could rarely come back from a disaster like that. Look no further than Rams assistant Raheem Morris who is still waiting on his second chance. Yet, O'Connell's play calling inexperience wasn't a concern for the Minnesota Vikings.
If Bieniemy were held to Zac Taylor's standard, he would have been a head coach after the Chiefs offense set the league on fire with a rookie Patrick Mahomes. Taylor's only play calling experience before the Cincinnati Bengals placed him in charge, came in 2016 when he spearheaded the Cincinnati Bearcats' disastrous offense during a 4-8 campaign that ended Tommy Tuberville's coaching career. Conversely, after five AFC Championship appearances, NFL teams want Bieniemy to do it again.
Bieniemy's coaching future
Which brings us back to Bieniemy's future employment prospects. Transitioning from Kansas City to a Sam Howell-led Washington Commanders jalopy in Ron Rivera's final season feels like self-immolation. The Titans can ride Derrick Henry until he breaks down, but their long-term quarterback situation is unsettled. The Baltimore Ravens opening is a fascinating mashup. Lamar Jackson in a Bieniemy offense predicated on pre-snap movement, running the ball creatively and utilizing the short passing game to a stable of tight ends or versatile running backs to open up the offense is similar to what Kansas City has done for four years now.
So what would happen if Bieniemy took the Titans or Commanders job and the offense floundered because of circumstances outside of his control? Well, he'd be Matt LaFleur, who left the Rams to assume a more significant role in the offensive play calling. Lafleur's only season as a coordinator resulted in Tennessee boasting the NFL's 27th ranked offense. After the season, LaFleur skipped the line and was named Packers head coach thanks to his credentials as a McVay acolyte.
NFL teams know in advance what type of candidate they want to hire. Black offensive assistants like Bieniemy have rarely fit that archetype. 




Original source here

#Eric #Bieniemy #held #unrealistic #standard