I'll get my biases out of the way up top. I'll never fully buy reality TV as "reality." It's hard for me to believe that anyone can act fully natural with a camera around, even if they say that after a while of being followed by them they forget they're there. Goes for Hard Knocks, too. The conversations we see on there are clearly hand-picked — they have to be — but never quite sound totally natural. That doesn't mean we can't get an approximation of what real life in AEW looks like through AEW: All Access, just not 100 percent.
How will Adam Cole's return impact AEW?
Which makes a wrestling company either perfect for this kind of show, or the worst possible. Because we're never sure what is real and what's a work in wrestling. Maybe AEW wants us to buy this as the curtain coming down and things are exactly as they are presented on the show. Or maybe it still contains the slight wink that wrestling always does, and will feed into the storylines on Dynamite and Rampage as well. Who knows? Every bit of news we get from backstage is always distilled by fans as to whether it's affecting booking or is part of a story or is not. So why not the show that's bleeding out from backstage as well?
Adam Cole is back BAYBAY
At least, that's the feeling after All Access's debut last night on TBS. It got off to that kind of mysterious start, because it just so happened that Dynamite closed last night with Adam Cole's return to the ring, and Britt Baker (his real-life girlfriend) joining him in celebrating his win. And then All Access starts, and Baker and Cole are the unquestioned center of that show. All Access was definitely pivoting around Cole's journey back from serious concussion problems and Baker's support of him through that. Hard to believe that the "reality" show didn't have some influence on the booking of "the show" that preceded it.
Baker actually eclipsed Cole as the star of the first episode, though not exactly with clear results. It sort of mirrored Baker's capturing all the attention of the women's division on the actual wrestling show a couple years ago when she was chasing and then became champion. It's clear why. Baker is as comfortable of a talker in any setting as anyone else in the company, and she still carries the glow of carrying the torch of the women's division for so long as well as being an AEW original. She has gravitas within the company.
But that doesn't make for smooth viewing, which maybe is what the producers wanted. A quarter into the episode or so, Baker makes a big deal about doing everything she can to lift the women's division and support the other wrestlers to make it as good as it can be. But this happens about 10 minutes after we've seen her shit all over Thunder Rosa in a confab with Jamie Hayter, Toni Storm, and Saraya.
Most AEW fans know that Rosa wasn't a popular figure backstage for various reasons, but this felt a touch excessive — especially with Saraya joining in even though we know that when this was filmed in Atlantic City she'd been a part of the company for a month, and long after Rosa had taken her leave. It also wasn't the best look for four white women to be bitching about the one Latina wrestler who was a major presence on the roster behind her back.
If anything, it was another example of Tony Khan not being able to be the bad guy. The CM Punk-Elite situation spiraled out of control because Khan never grabbed hold of it, whether that was clearly explaining to the roster that it was his call to sideline Colt Cabana and not Punk's if that's what happened, or by cutting Punk off at the press conference from hell. The Rosa/interim champion was no different. We know from various reports it was Khan's call to keep Rosa as a champion during the first part of her injury absence. So why are the other wrestlers blaming Rosa for that in this episode?
And no fan can help but wonder how this will play into Rosa's eventual return, and there's no way it couldn't. Eventually, Rosa is going to have a match with Storm or Hayter, and fans will have these scenes in their mind when she does. Is that intentional or not? With wrestling, we never know, which kind of undercuts the "reality" of the whole thing.
There are some actual interesting behind-the-scenes nuggets
That doesn't mean All Access doesn't have some nuggets. I'm a sucker for how shows and matches get put together. Early on, we see Tony Schiavone explaining to Sammy Guevara where his feud with Bryan Danielson is going, why it's going there, and what they need Sammy to do in his promo to hype the next match. This is the good stuff.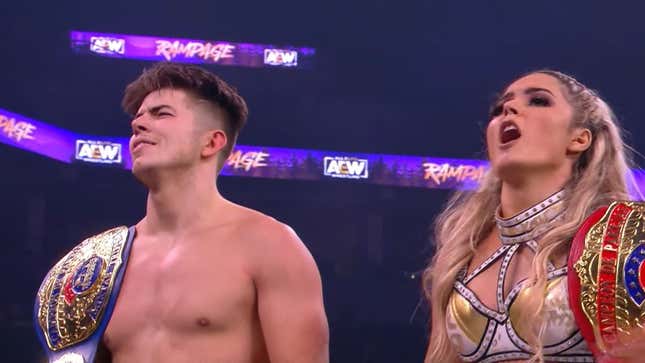 Same with Guevara and Tay Melo explaining how them getting married blunted Melo's face-run and turned her heel and how frustrating that was for her and finding her way on the fly on what it means to be a heel. It's a great insight into the flexible nature of wrestling storytelling and the performers' need to be ready to pivot on a dime.
We also see the Young Bucks returning after their suspension, and working out in the ring for the first time in two months and how apprehensive they are. And as they start to put together what will be their match at Full Gear a couple weeks later. Again, I eat this kind of shit up.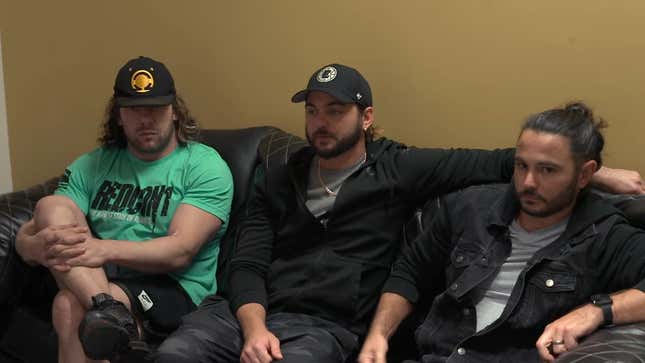 The Bucks were obviously completely open while on camera. It's obvious MJF won't be. That dude will never break kayfabe. But that contrast muddles how we view who is giving it to us straight and who isn't. Which…makes it a wrestling product, I suppose. The stories never stop in The Business, even when it's supposedly taking you behind the curtain. 


Original source here

#AEW #Access #doesnt #lines #blurred